During this year's search 15, possibly 17, pairs of Curlew were found at roughly 25 sites in Gwent.  As Curlews often feed quite far from their nest fields, it's difficult to be sure of the exact number of pairs or territories.  Breeding was confirmed in four tetrads, was probable in 15 and possible in five – see map showing Breeding Curlew by tetrads.  To my absolute delight chicks were seen at five different locations.
Unfortunately, lack of observers meant that not all sites where Curlews have bred in the past (even in recent years) could be visited. According to Gwent Breeding Atlas data in The Birds of Gwent (Venables et al. 2008) when 394 tetrads were analysed the breeding population comprised an estimated 70 pairs, found in a total of 133 tetrads – 15 Confirmed, 72 Probable and 46 Possible tetrads. Given that records were only received from 28 tetrads during the 2022 breeding season, no meaningful comparison can be drawn at the present time.
Records submitted to the Gwent Ornithological Society (GOS) show that in 2021 16-17 breeding pairs were found, mostly in the same locations as this year.  Three nest fields were identified (one nest held two eggs) but all were believed to have failed; chicks were seen at two sites but it is not known if any fledged.  The three previous years produced considerably fewer breeding records: 6-7 in 2020, 11-12 in 2019 and 6-7 in 2018. These figures are not surprising as the locations favoured by breeding Curlews are not commonly visited by birdwatchers; the higher numbers in 2021 and 2022 when targeted searching was undertaken cannot, therefore, be seen as an increase in the breeding population.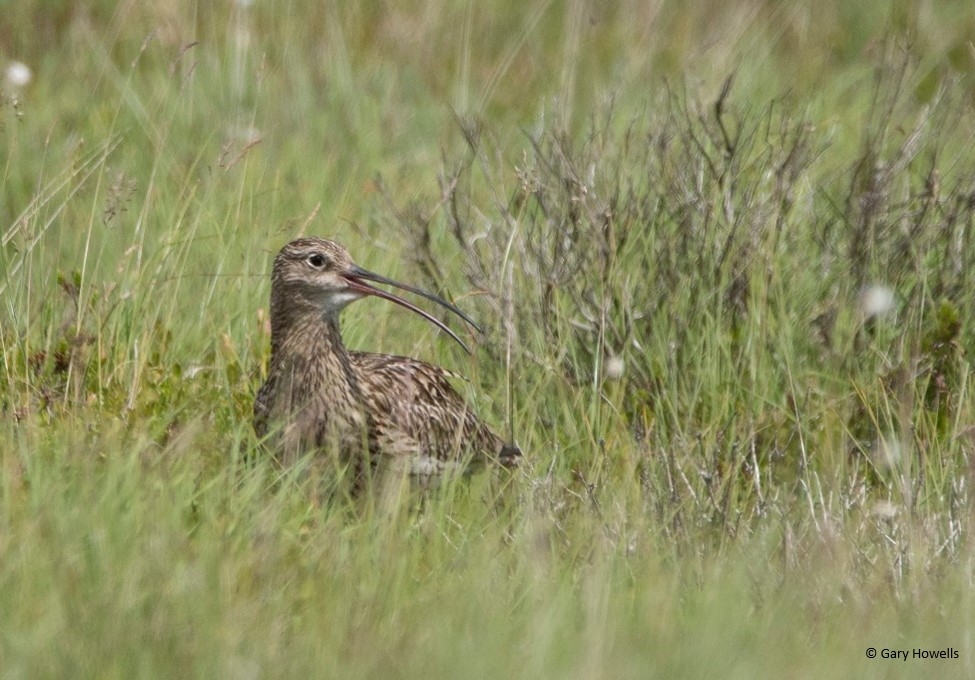 The purpose of the survey was to assess the number of breeding pairs, to locate nest fields and monitor breeding. No attempt was made to approach actual nests. Without the experience, manpower or funding to erect electric fencing around a nest to guard against foxes and badgers (as is done in some locations in the UK) this would have been unwarranted disturbance. With the help of several very willing local observers, four nest fields were identified, two other fields almost definitely held nests while a seventh nest was suspected in one of three fields. Agitated behaviour indicated eggs or chicks at a further three sites. Unfortunately, there simply wasn't the time or manpower to monitor all the pairs adequately so outcomes for most are unknown.
A few areas were home to several territories in fairly close proximity: Trellech held two, perhaps three, pairs; Trefil four, possibly five; and Brynygwenin three. Pairs were also found at Llangybi, Newchurch, Llanwenarth, Blaengavenny, Llanvihangel Crucorney/Llangattock Lingoed and Markham.
I was lucky enough to find three sets of chicks in mid and late June, Gary Howells found a fourth set on 14th July and Andy Shipp saw a well-grown chick with a parent bird on 11th July.
The first chicks seen were in a hayfield below moorland; the incredibly caring farmer agreed to delay mowing until they'd left the field – if only we had more farmers like him! We believe they moved into moorland where they are virtually impossible to follow so we don't know if they and another two, found nearby by Gary Howells, fledged – we can only hope they did. At this site they have to contend with Peregrines as well as gulls and crows; on several occasions we saw Red Kites being mobbed by the parent birds.
The two tiny chicks I came across in a newly-mown field near Brynygwenin were not seen again in spite of repeated searching so I suspect these were predated.
Two of the three chicks seen near Markham (in a hay field which is always cut late in the year) disappeared, presumably taken by gulls, crows or a mammalian predator. Happily, the lone remaining chick grew big enough to be ignored by, and ignore, avian predators and was seen wing-flapping and jumping off the ground by local observer, Simon Maggs, and myself; dates and field notes give every reason to suggest that this chick fledged successfully but not having seen it in flight we cannot be sure.
The last chick was seen on just one day near Llanvihangel Crucorney by Andy Shipp; it was well-grown but hadn't yet fledged.
No chicks were seen elsewhere so it's assumed these nests failed. A lone Curlew in a nest field at Brynygwenin indicated that the eggs or chicks were probably crushed when the field was cut. A pair was seen chasing off a Buzzard in a distant field in the same area but no follow-up was possible. Near Trellech a Curlew pair walking along rows of newly mown silage suggested that their nest had been mown while predation was the more likely cause of failure at another site in this area. Pairs in a hay field near Newchurch and in a rushy field near Blaengavenny disappeared in mid and late June, probably because any eggs or chicks had been predated. The regularly returning pair at Llanwenarth were thought to nest in one of three fields but access to a viewing point proved difficult and the outcome is unknown. Mating was observed in a field next to last year's nest field at Llangybi but lack of time to follow up means we don't know the outcome here either.
Several people became 'local observers', visiting a site near to them and reporting back regularly – the help given by Gary Howells, Simon Maggs, Chris Dyson, Duncan Powell and Mark Heffernan was invaluable.  My thanks also go to those farmers who kindly allowed access to their land.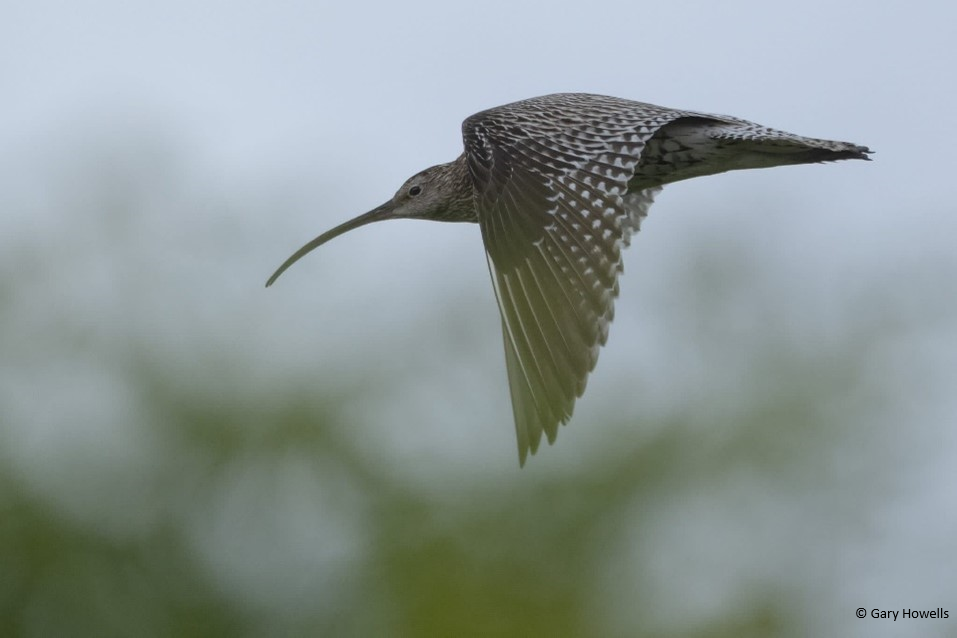 The dedicated email address curlew@gwentbirds.org.uk set up by the Gwent Ornithological Society attracted a wide response and I am extremely grateful to all who sent in sightings as well as to the organisations which publicised the address – Monmouthshire Meadows, Gwent Wildlife Trust and various websites.
My thanks go to Darry Spittle who supplied as yet unpublished records submitted to GOS and kindly produced the Breeding Curlew by Tetrad map.
Reference
Venables et al. 2008. The Birds of Gwent. Christopher Helm, London
Verity B Picken, GOS